Upcoming Productions: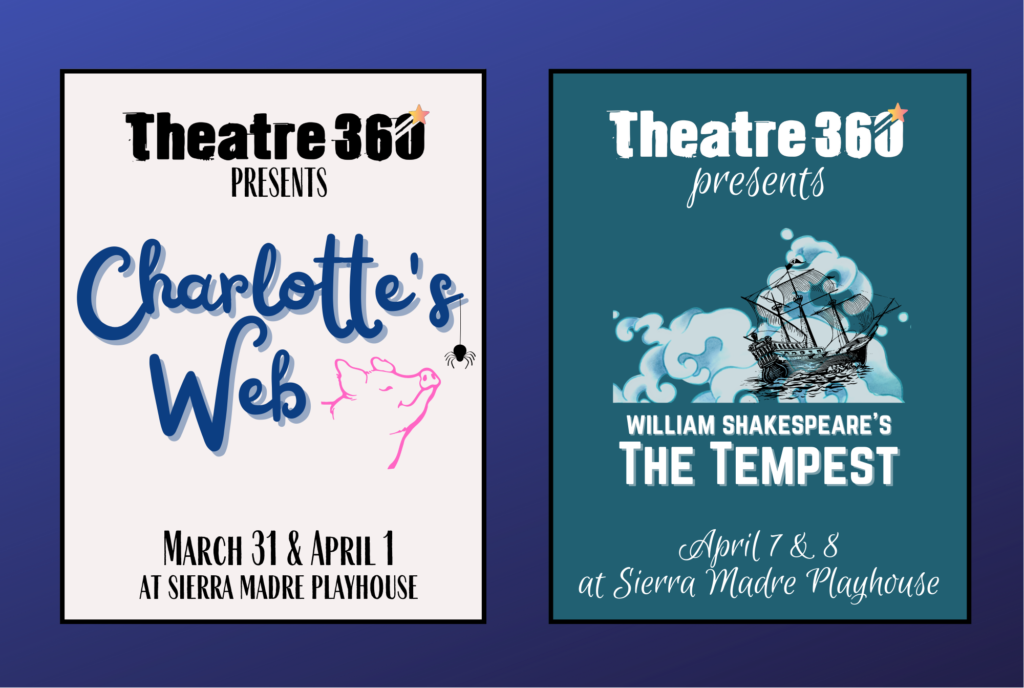 FAQ ABOUT COMING TO SEE OUR PRODUCTIONS
WHO IS PUTTING ON THE SHOW?
We are Theatre 360, an award-winning children's theatre company celebrating 22 successful years in Pasadena. T360 productions have won five Pasadena Weekly "Best Production" awards and the Pasadena Arts Council's Gold Crown Award for "Excellence in the Performance Arts." Over the years T360 productions students have entertained more than 22,000 happy audience members, and we're happy to add more new audiences when they see T360's 74th production.
WHAT IS THE SHOW ABOUT?
CHARLOTTE'S WEB is the heart-warming story of a remarkable spider, Charlotte, and an adorable piglet named Wilbur. This classic tale by E.B. White celebrates true friendships and the power of coming together – whether you swim, fly, or walk! Don't miss the adventures these TERRIFIC characters take us on, as they rally to save one of their own.
THE TEMPEST: Twelve years after escaping a coup, Prospero, who is both a magician and the former Duke of Milan, summons a storm to shipwreck his scheming brother Antonio. When the survivors meet the inhabitants of Prospero's island – among whom are a monster and a fairy – a romance, a mutiny, and much magic follow.
HOW MUCH ARE TICKETS?
Tickets are $20 each for reserved seating, and can be purchased in advance at brownpapertickets.com. (NOTE: There is a service fee. And online sales will end 2 hours before each show.) If not sold out, tickets will be sold at the door – we accept cash, Visa, and MasterCards.
CAN I MAKE AN EXCHANGE OR REFUND?
Sorry, no. All sales are final.
DO YOU HAVE GROUP SALES/DISCOUNTS?
At this time we do not have group discounts.
WHEN ARE THE SHOWS?
Charlotte's Web: March 31st at 7:30pm, April 1st at 12pm and 4pm.
The Tempest: April 7th at 7:30pm, April 8th at 1pm and 6pm.
WHEN SHOULD I ARRIVE AT THE THEATRE?
If you've already purchased your tickets, your seats are reserved and there's no need to rush. If you're purchasing your tickets at the door, any remaining seats go on sale a half hour before show time. The house opens approximately 20 minutes before show time when you can take your seat(s).
WHERE IS THE SHOW?
Sierra Madre Playhouse: 87 W Sierra Madre Blvd., Sierra Madre
Contact Theatre 360 for all questions regarding these performances.
info@theatre360.org
626-577-5922
PLEASE NOTE: The Playhouse requires all audience members to wear masks.
WHERE DO I PARK FOR THE SHOW? HOW MUCH DOES IT COST?
There is ample free street parking, and a free parking lot on the North side of (behind) the Playhouse.
The lot used for parking closes at midnight. Please be sure to move your vehicle if you plan on staying in the area after that time.
DO YOU SERVE FOOD AND DRINKS AT THE SHOW?
Before the show and at intermission we sell snacks such as chips, cookies, and cupcakes. We also sell soft drinks and water. We accept only cash for snacks and beverages. FOOD AND DRINK ARE NOT ALLOWED IN THE THEATRE.
ARE BABIES AND YOUNG CHILDREN ALLOWED AND DO THEY NEED TICKETS?
Children ages 3 and up are welcome and will need a ticket. We kindly ask no infants be brought to our productions.
WHAT IS THE DRESS CODE?
People dress more in the comfy/casual range.
CAN I BRING MY CAMERA?
The use of cameras and other recording devices is strictly prohibited.
IS THERE WHEELCHAIR ACCESSIBLE SEATING?
Please contact us if you need wheelchair accessible seating so we can coordinate with the Playhouse. 626-577-5922
HOW CAN I AUDITION FOR FUTURE THEATRE 360 SHOWS?