Note: There are no refunds for summer classes, however you may request a credit good for another class/camp. Credits may be requested until after the first class (cost of first class will be deducted). After the second class, no credits or tuition adjustments will be allowed.
DISCOUNTS: Sign up for all 3 Teen Advanced Classes (voice, acting, and dance) and receive $75 off your total!
Improv/Sketch Comedy with Melissa Booey
In-person
Tuesdays, Starting June 8-July 13, 7:00-8:30, $220
Improv isn't just for actors: whether you're going on a job interview, speaking in public, meeting new people or directing a business meeting, improvisation skills are an important part of everyday life. This fast-paced, fun class focuses on acting, characterization, creativity and spontaneity through improvised scenes and theatre games. The emphasis is on thinking faster, making strong choices, and increasing confidence. Whether you are a beginner or have tons of improv and sketch comedy experience this six-week Improv class is the perfect fit for everyone! Come laugh, create, and play like a kid!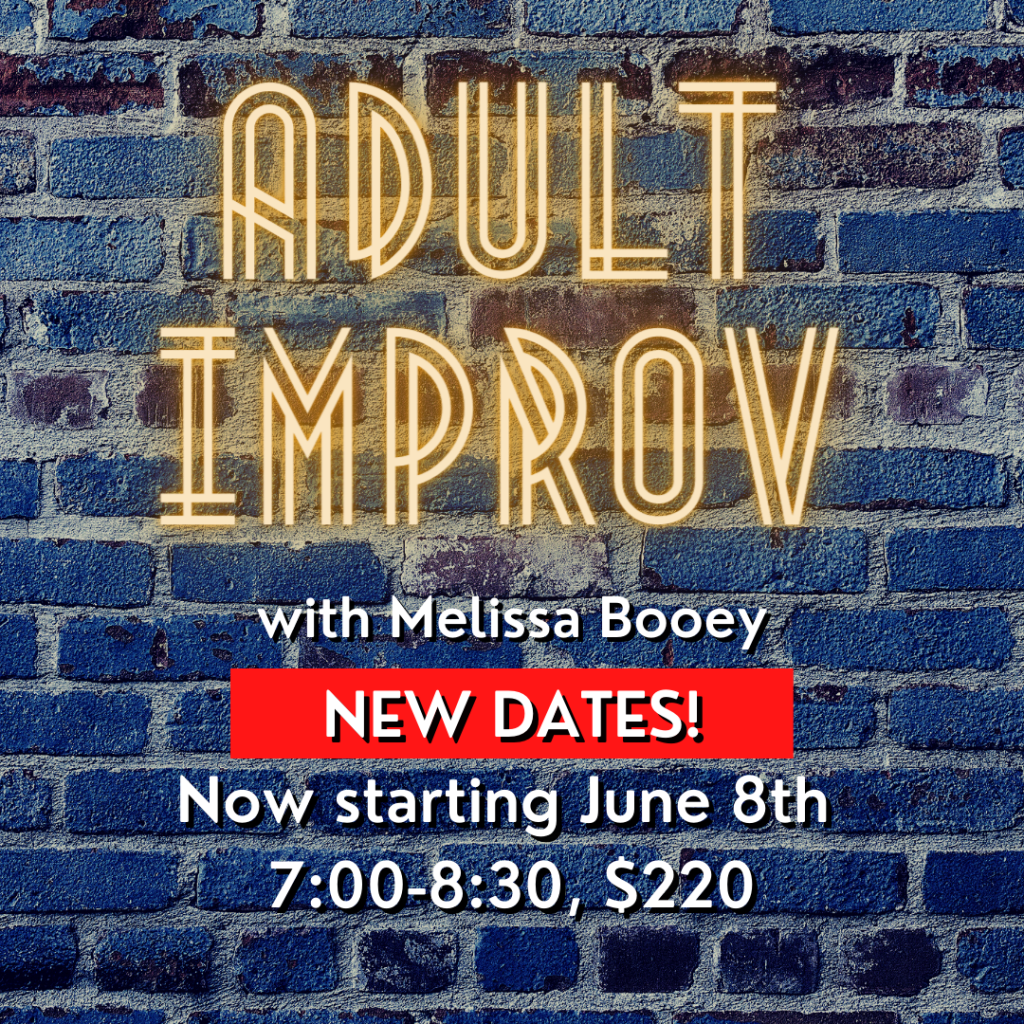 Adult Tap with Devon Yates
In-person
Mondays, June 7-July 26 (no class July 5), 6:45-7:45, $220
Our Adult Tap dance class is for basic to beginning level adult dancers. Tap is a great way to connect with rhythm, coordination, and performance. In each class students will learn new repertoire and choreography while listening to great music, get a good work out, and have a terrific time! Don't miss this popular class favored by adults and T360 parents.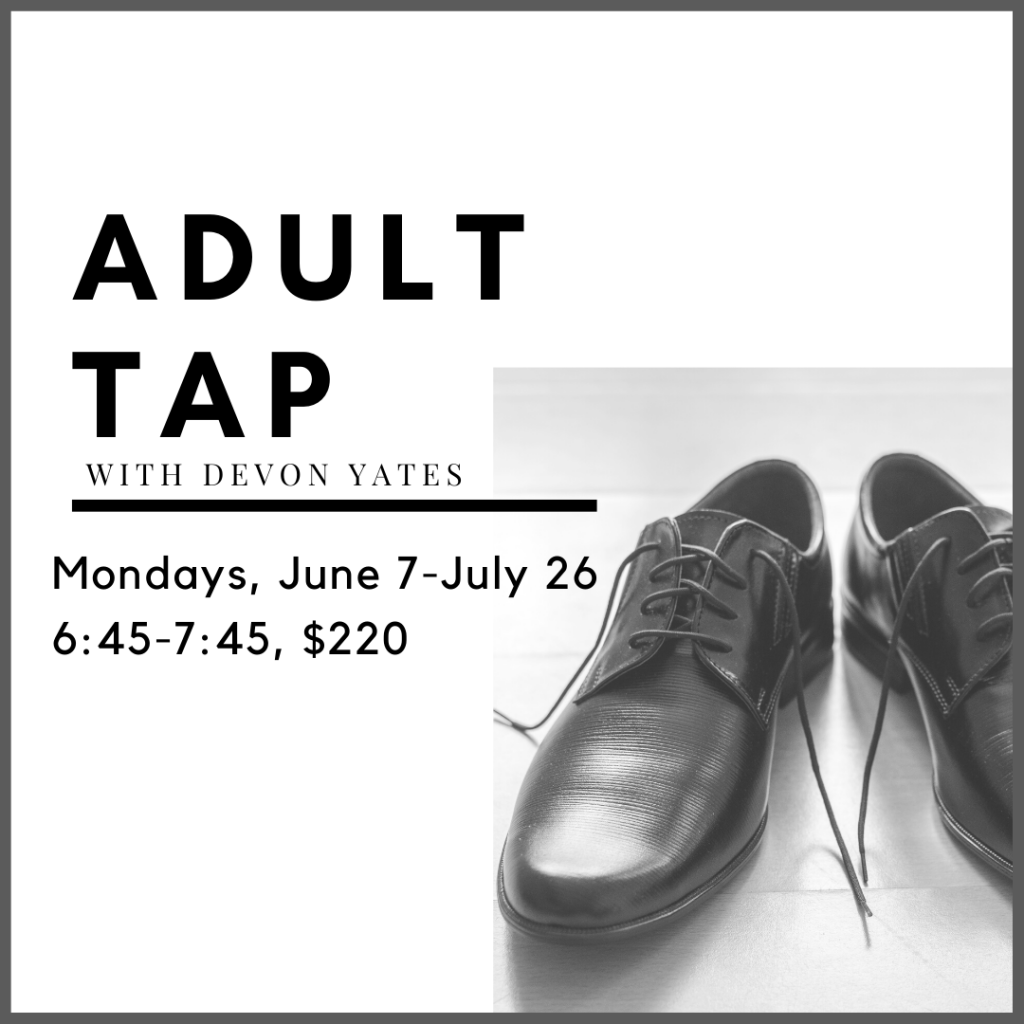 Acting Fundamentals with Erin Norlie
Virtual Only
Sundays, June 6-July 18 (no class July 4), Ages 12 to 16, 11:00-12:30
Enrolled in camp: $180 Not enrolled: $220
Are you new to acting? Interested in improving your acting technique? This class is a fun, and safe way to learn the necessities! Voice and speech, movement, improvisation, stage directions and terminology will be taught. Each student will walk away with a strong understanding of how to project their voice, create a character, and teamwork. Students will work together in scene study while developing their self-confidence and talents!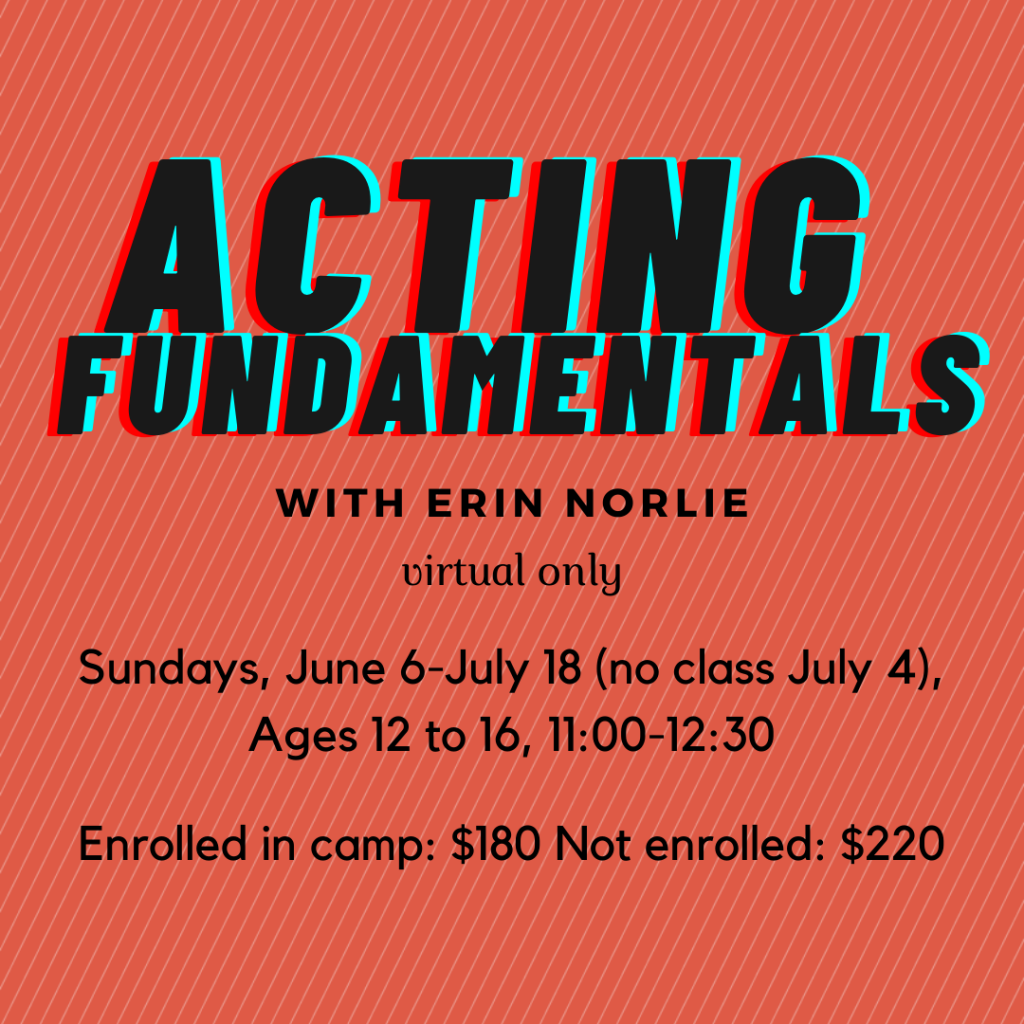 Intermediate/Advanced Acting Technique with Devon Yates*
In-person
Tues/Thurs, June 8-July 1, 6:00-7:30, Ages 12 to 19,
Enrolled in camp: $220 Not enrolled: $260
Through script analysis, repetition, and improvisation students will further develop their performance technique as they pursue objectives and overcome obstacles. Students will work deeper in learning to work truthfully from moment to moment. Along with acting skills, students will develop techniques in creative thinking and public speaking. Students will finish the class with further confidence in self and their newly honed talent. Regular attendance is necessary as students will work with partners. *Previous acting experience and training required.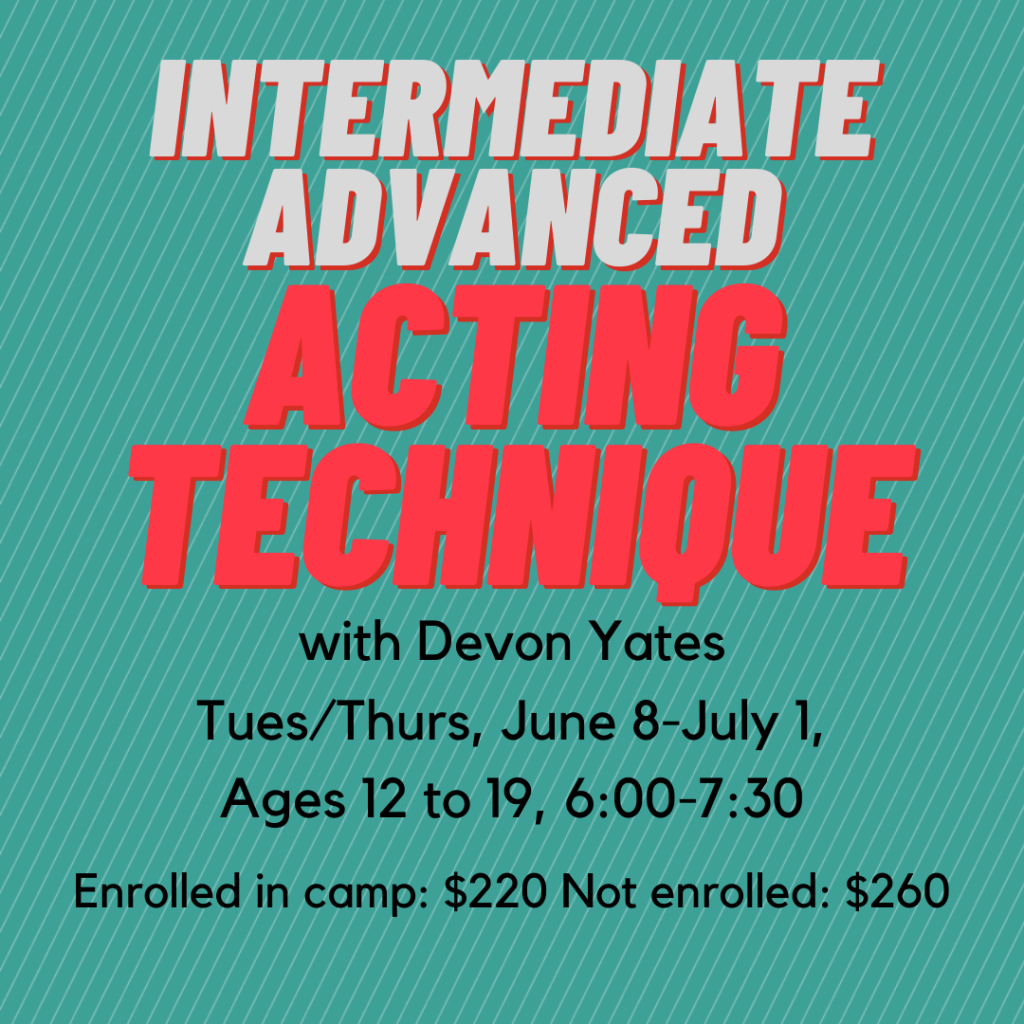 Advanced Beginner/Intermediate Advanced MT Dance with Devon Yates & Taleen Shrikian
In-Person
Wednesdays, June 9 – July 28 (no class July 7),
6:15-7:45, Ages 11 & up
Enrolled in Camp: $210 Not Enrolled: $240
This musical theatre class will focus on learning proper dance technique while exploring the various dance styles used in Broadway shows. Class curriculum is based on ballet technique layered with Broadway style jazz movement and includes a proper warm-up, stretches, isolations, across-the-floor progressions, and combinations. Emphasis will also be placed on learning performance skills such as connecting with the audience and telling a story through dance and facial expressions.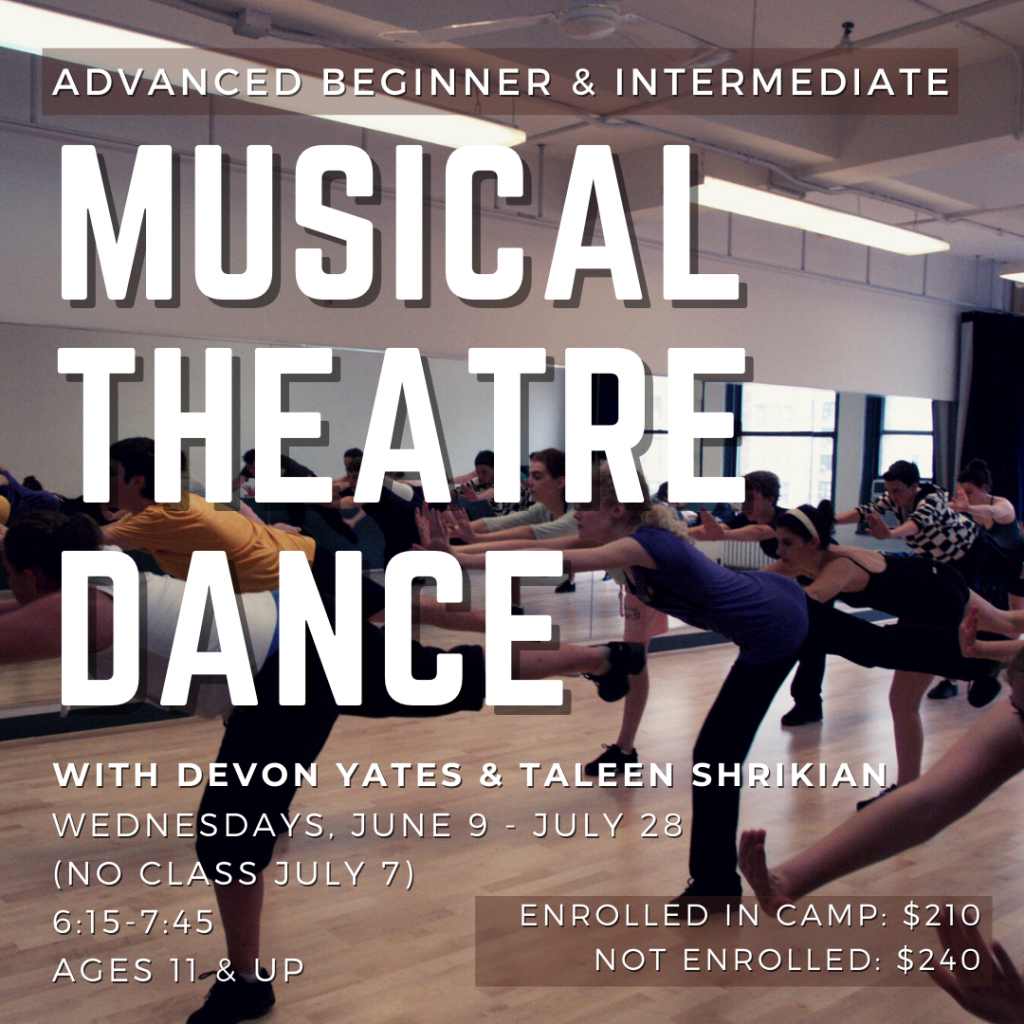 Intermediate/Advanced Vocal Performance with Devon Yates & Accompanist Micah Wright
In Person
Mondays, June 14 – July 26, (NO CLASS JULY 5)
5:00-6:30pm, Ages 12 & up
ENROLLED IN CAMP: $220 NOT ENROLLED: $250
This class is geared towards the serious-minded and experienced student who strives to refine their vocal skills and creative expression. A vocal performance is more than just singing notes properly. In this class students will explore emotional and vocal nuances, vocal quality, healthy singing, and performance/audition techniques. Assignments are given on a weekly basis for students to select material best suited to them and perform in front of class to practice performing skills and learn to personalize that material.