Showbiz Kidz
For Our Youngest Students Ages 3 to 5 | Monday – Friday | 9:00am-12:00pm
(Before Care only, 8:00 – 8:45am, $5.00 per day per child)
This camp has been specifically designed for our younger students to experience the magic of the arts through singing, movement, dramatic play, and special theatre craft projects. Each camp session culminates in a showcase.

Showbiz Kidz Dates & Themes:
Monday – Friday | 9:00am-12:00pm
Each theme will use various, age appropriate materials from the musicals listed. Not all musicals may be used or may be subject to substitution.
CHECK BACK FOR OUR 2020 SCHEDULE!
Please Note: The Camps and Classes at Theatre 360 are closed classes. Once an introduction to the teacher, staff, and surroundings takes place; the students and the teaching staff work alone without parents and visitors watching. Students are supervised at all times in class, snack time and during restroom/drinking fountain breaks.

The Details:
When: Monday-Friday, 9:00am – 12:00pm
Where: Theatre 360 Lobby – Our Showbiz Kidz parents will need to sign in their child at the beginning of the day and sign out at the end of camp. If you are late coming to camp please stop by the office, sign in, and we will take your child to class. The students of ShowBiz Kidz stay in the same room with the same teacher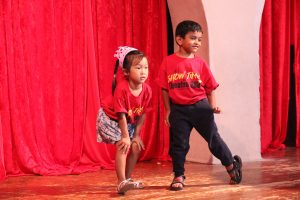 for the duration of their camp, with the exception of the break outside in the park and supervised bathroom/drink breaks.
What to wear: Clothes that the student can move in, and be comfortable. Close toed shoes (no sandals, crocs, slip-ons). If you have ballet or jazz shoes, super! Bring them.
What to bring: The students will have several breaks throughout the three hour day with us. Parents please pack snacks and juice/water that are self-contained and do not require refrigeration or microwave. Scripts and music may be sent home with the student's name on their sheets, please practice at home with your child and bring to class the next day.
What the day consists of:
9:00-9:50am – Acting – throughout the camp session the students will learn about projection, diction, improvisation, story building, what blocking is, taking direction, building characters, memorization, and focus. These are taught through theatre games, exercises, scripts to take home, and scene work.
10:00-10:45am – Dance – Students are taught balance, coordination, spatial -awareness, and dance steps. Each day students work on learning proper dance technique through musical theatre dance. Games and activities help teach the student ballet, jazz, dance vocabulary, and steps.
10:45-11:00am – Break with the teacher in the enclosed park outside our office door
11:00-11:30am – Singing – A young voice is a developing muscle; we take extra care to not overwork their vocal chords. During their singing class each student will learn how to correctly breathe while supporting their voice. Pitch is taught through vocal exercises, as well as basic placement. Songs will be taught according to session theme.
11:30-12:00pm – Prop/Costume/Scenic Craft Building – Each session has a different theme culminating in an end of session onstage showcase. Throughout the session students will work with the teacher to build some of their props, set, and character needs they will perform and work with. We do offer before care, but sorry at this time we do not offer after care for this age range. Showbiz Kidz students will need to be picked up at 12:00pm.
At Theatre 360 our intention is to educate and inspire. Important to us are the values of teamwork, politeness, and sharing our creativity. Each child's voice is important to us whether 3 or 19.
Special Needs: Please note we have been incorrectly listed on Special Needs Summer Camp websites. If your child has special needs please call the office as we may be able to accommodate them on a case by case basis.