Performing Arts Camp
Virtual & In-Person
Ages 6 to 14
Monday – Friday
Theatre 360 Families,
Many of you have reached out requesting Theatre 360 to open. We have heard you! We know your theater hearts, souls, and voices are ready to be heard and we can't wait to see you and share our love and talents together again. And with new safety protocols in place and a very limited amount of spaces available we are ready to open safely in a modified camp.
We are giving you two options to join us and our amazing teaching artists:
1. In-person /virtual
2. Virtual
Now is not a time to let your hard work and training go. And as more summer activities are being canceled, and many in person classes are still closed, Theatre 360 is here for you to continue developing your talents. For the past 20 years Theatre 360 has been a leader in our community for the arts and our children. We have pivoted, bent, struggled, taken a beat, but have always gotten up and rose to the challenge and will continue to do so. We're here to celebrate your passion! Just with some social distancing and a mask:). We can't wait to see you!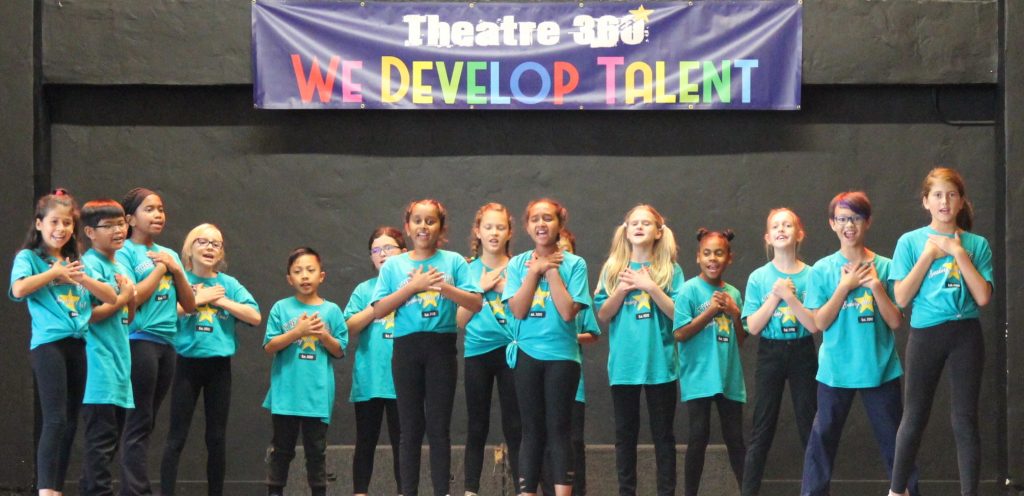 Join us for Theatre 360's Virtual & In-Person Summer Camp 2020!
Please see the safety protocols we have and will put into place:
Sign up for multiple camps and receive $30 off each additional camp! Each session is different!
Camps & Themes:
Please note: Not all musicals listed will be used but all materials and selections will be age appropriate. 
Remaining Virtual:


Session 4: July 6-17 | Mon-Fri, 9:00-1:00 | Musical Adventures! | Two-Week | $650
OR Still time to join us for just one week for $360 REGISTER for SESSION 4
Hadestown, Beetlejuice, Big River, Catch Me If You Can, Big, Kinky Boots, Mamma Mia, Avenue Q (age appropriate), Little Me, Camelot, Wicked, Descendants, Moana, Tarzan, Frozen, Into the Woods, Wizard Of Oz, Aladdin, On The Town, Little Women, Xanadu, On The Twentieth Century, Pippin, Shuffle Along, Once, In the Heights, Urinetown, The Light in the Piazza, Seussical, Peter and the Star Catcher, Madagascar
The following camps will have 2 Groups that will alternate between being in-person at our location and being virtual at home. If you would like to stay virtual for the whole camp you also have that option:
Monday – Friday, 8:30-2:30, AGES 6 to 14
After care: 2:30-5:00, $20/day/child

Session 5: July 20-31 | Movie Musicals | Two-Week | $650 | REGISTER
Moulin Rouge!, Enchanted, The Greatest Showman, La La Land,  An American in Paris, Hairspray, Annie, Fiddler on The Roof, West Side Story, Cats, The Sound of Music, Singing in the Rain, Mamma Mia, Here We Go Again, Pitch Perfect, Oklahoma, Oliver, Rocky Horror Picture Show, Thoroughly Modern Millie
Session 6: Aug 3-14 | Rock On! | Two-Week | $650 | REGISTER
Head over Heels, Grease, Hamilton, In the Heights, School of Rock, Hairspray, America Idiot (age appropriate), Hair, Joseph and The Amazing Technicolor Dreamcoat, Tommy, The Last Ship, The Wiz, The Wedding Singer
Session 7: Aug 17-21 | Alphabet Soup! Musicals C-G! | One-Week | $360 | REGISTER
(Cabaret, Chicago, Cats, Charlie and The Chocolate Factory, Come From Away, Chitty Chitty Bang Bang, A Chorus Line, (age appropriate), Chaplin, Copacabana, Crazy For You, Curtains, Dear Evan Hansen, Damn Yankees, Drowsy Chaperone, Do I Hear A Waltz, Do Re Mi, Edges, Elegies, Evil Dead (age appropriate), Evita, Funny Girl, Funny Thing Happened on the Way to the Forum, Footloose, The Fantasticks, Fiddler on the Roof, Falsettoland (age appropriate), Five Guys Named Moe, Forever Plaid, Fosse, The Frogs, Flora The Red Menace, Groundhog Day, Guys and Dolls, Gypsy, George M!, Gigi, Godspell, Gentleman's Guide to Love and Murder)
FINAL PERFORMANCE
A final performance for each group and each camp will be recorded and sent to families!
Can Still Only Do One Week

?
If you would like to do just one-week you will need to be virtual-only due to our limited spots. Please note too, camps are cumulative so it will be easier to join the first week instead of the second.
Example Schedule for Virtual/In-person Camps:
Session 5 & 6: Two-Weeks
Group 1

1st Week:

In-Person on Mon/Wed/Fri
Virtual on Tues/Thurs

2nd Week:

In-Person on Tues/Thurs
Virtual on Mon/Wed/Fri

Group 2

1st Week:

In-Person on Tues/Thurs
Virtual on Mon/Wed/Fri

2nd Week:

In-Person on Mon/Wed/Fri
Virtual on Tues/Thurs
For Session 7: One Week
Group 1

In-Person on Mon/Wed
Virtual on Tues/Thurs

Half Day Friday:

Virtual: 8:30-11:30
In-person: 12:30-3:30

Group 2

In-Person on Tues/Thurs
Virtual on Mon/Wed

Half Day Friday:

In-person: 8:30-11:30
Virtual: 12:30-3:30
A Sample Day | 8:30 – 2:30

8:30-10:00am – Acting – Throughout the camp session the students will learn about projection, diction, improvisation, story building, what blocking is, taking direction, building characters, memorization and focus.  These are taught through theatre games, exercises, scripts to take home, and scene work.
10:00-10:15am – Snack break
10:15-11:45pm –  Dance – Students are taught balance, coordination, spatial awareness, and dance steps. Each day students work on learning proper dance technique through musical theatre dance. Dance combinations help teach the student ballet, jazz, dance vocabulary, and steps. Choreography is taught and rehearsed.
11:45-12:15pm – Lunch
12:15-1:45pm – Singing –During their singing class each student will learn how to correctly breathe while supporting their voice.  Pitch is taught through vocal exercises, as well as placement, phrasing, vocal control and style.  Group numbers are taught. Solos are given with student interest.
1:45-2:30pm – Group Rehearsal – The groups will come together to rehearse onstage the end of session showcase.
Age Groups
Students are broken into 2 age groups. Please note the curriculum is based on age appropriateness and students will need to be the correct ages in order to register for that group.
If you want to be with friends, please let us know when you enroll. We will do our best to accommodate all requests.
What to bring & What you'll get:
Lunch and snack! Please do not prepare anything requiring a refrigerator or microwave.

Scripts and music will be emailed, please practice at home with your child and bring to class the next day.  

Vocal warm-ups and dance choreo will be sent to each student to practice on their own time.
What to Wear
Mask or face shield
Clothes that the student can move in, and be comfortable.
Close toed shoes (no sandals, crocs, slip-ons). Sneakers are best!
If you have ballet or jazz shoes, super! Bring them.
Cancellations
Should you decide to cancel:
Keep Your Full Tuition Funds on Account with Theatre 360 – Summer Camp Tuition will be kept on hold for a future class/camp; with no expiration date.

Make a Donation – Direct your funds to help support Theatre 360 in keeping our doors open.  Your support is greatly appreciated. 

Receive a Refund – Per Theatre 360 policies (click button below to see full policy)
Looking for programming for ages 3 to 5? Check out Showbiz Kidz: