Auditions
Ages 10 & up
To audition: Please submit a video by Sept. 24th, see requirements and paperwork below
Callbacks, in-person: Sept 29, 5:30-9:00
Auditions and rehearsals will all be in-person with masks. Please read all requirements below before signing up.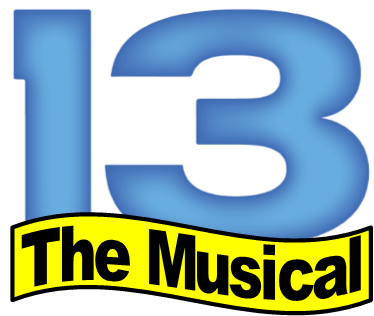 Performances: December 10, 11, 12
The show that debuted Ariana Grande on Broadway! This Jason Robert Brown musical features a cast entirely made up of teenagers. When 13 year old Evan Goldman moves from New York City to Indiana, he must escape rumors and blackmail if he hopes to make friends and find happiness at his new school. The show deals with the hardships of leaving familiar places for unfamiliar ones, fitting in with your peers, and transitioning from youth to adulthood. See the character breakdown at the bottom of this page.
Things to Know:
If cast, there is a $350 production fee
There is a $20 script fee
There are no refunds or credits for classes after auditioning
Rehearsals will be Wed/Sat but not all students will be called to every rehearsal. See schedule below!
All auditions and rehearsals will be in-person with masks
Students need to be available for all performance dates and the week before opening night
Students will need to provide their own undergarments and shoes
We also ask for donations of concessions and parent volunteers for the shows
Preparation & Requirements (UPDATED):
Students must be signed up for a Fall 2021 class: See Classes Here
Submit a video audition:
What to record: Prepare and sing 1 song, either a 32-bar up-tempo or a 16 bar ballad (ie. 1-minute or less) of a contemporary musical theatre song. Be sure to sing with an accompaniment track, no acapella. Please do not sing a song from "13."

Email your video to info@theatre360.org. It's best if you upload your video as "unlisted" on YouTube* and then send us a link. Most video files do not transfer well over email.

*If YouTube is giving you trouble, you can also send through: Google Drive, WeTransfer, DropBox etc.


Fill out all of our paperwork and email with your video. There are 3 items below. We suggest printing it all out, filling it in, and then you can either scan, take pictures, or use a phone scanning app in order to email it back:
Let us know any questions!
Rehearsal Schedule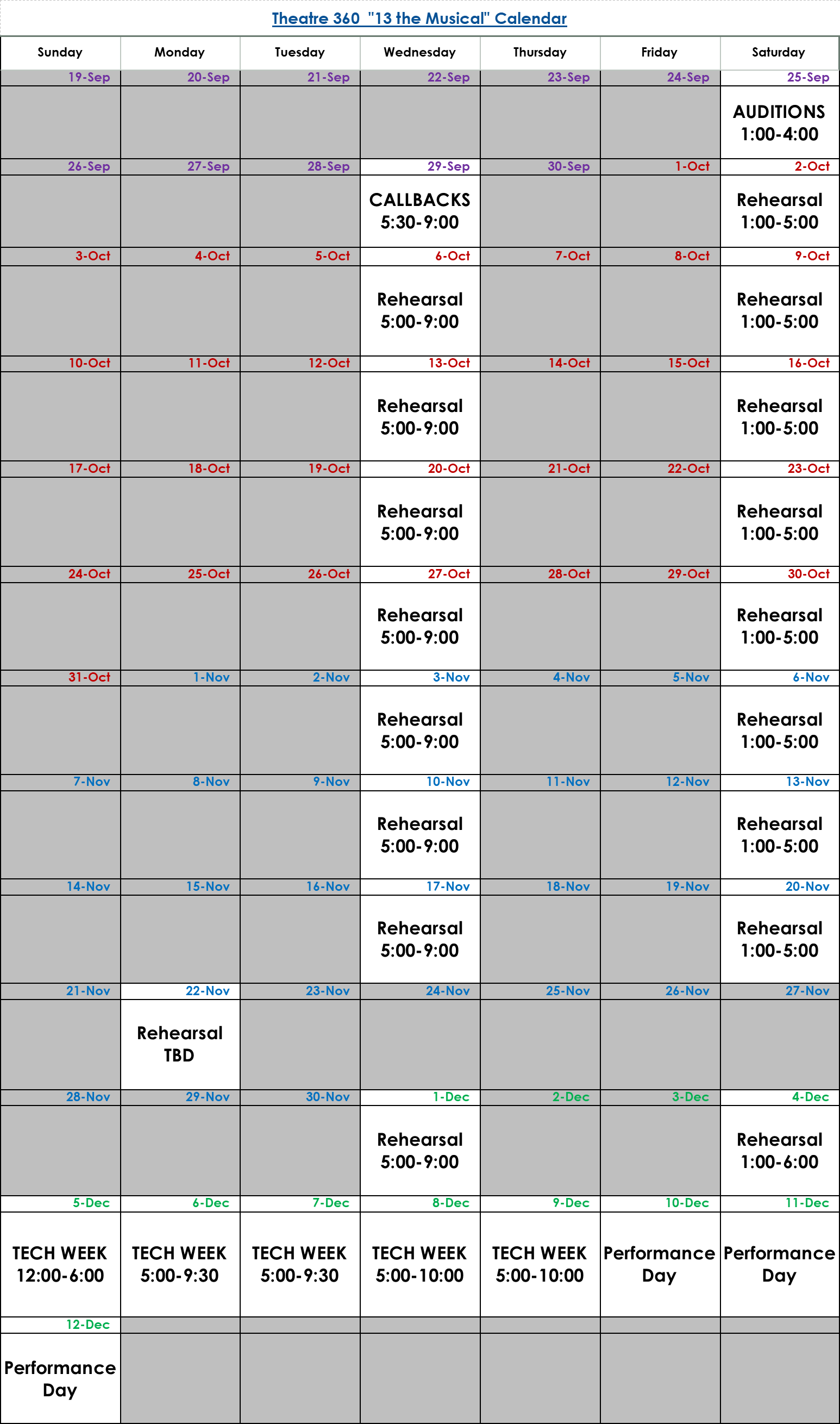 Character Breakdown
Evan
A twelve-and-a-half-year-old Jewish city boy from New York City. Just having moved to Indiana, he is trying to find a place to fit in. This bright, goodhearted guy is about to celebrate his Bar Mitzvah and needs to find people to invite. He eventually becomes close with Patrice and Archie. Our story's protagonist.
Archie
Unique, positive and intuitive. A good-humored, intelligent, but unpopular kid, whose energy and looks are unlike anything else in Appleton. Patrice's best friend. Manipulative, funny, fast, with a flair for the dramatic. He walks on crutches as the result of muscular dystrophy – his disease gives him a perspective on life that is in many ways beyond his years. Madly in love with Kendra.
Brett
The prototypical vain junior high school football star. Cool, handsome, and about as smart as a postage stamp. All the girls on the cheerleading team are head over heels to date him. He is willing to succeed at the expense of others. Leads a pack of popular boys and can be a bully. Rude to anyone who isn't in his clique, Brett is only concerned about being cool and making out.
Patrice
A shy, intelligent, bookworm and a grounded, kind girl. She is the first person which Evan meets and they soon become friends. She has a little crush on him. She is Archie's best friend.
​Lucy
A smart, manipulative cheerleader who secretly desires to have her "friend" Kendra's boyfriend Brett. Lucy has a great deal of control over Kendra. She tries to get Brett to break up with Kendra so she can start dating him. Sneaky and feisty and shallow.
Kendra
The prettiest and most popular girl in school. She has a major crush on Brett and they are an on-and-off couple.
The bubbly, popular, head cheerleader. Lucy's best friend and unknowing rival. Kendra is good at heart, but she is naive and very impressionable. Kendra struggles with the pressures of popularity.
Malcolm
A wannabe popular kid and one of Brett's sidekicks. Brett's lackey and also a member of the football team. Malcolm lives to serve Brett – if Brett's happy, Malcolm's happy.
Eddie
A wannabe popular kid and one of Brett's sidekicks. Brett's lackey and also a member of the football team. Eddie lives to serve Brett – if Brett's happy, Eddies' happy.
Cassie
A cheerleader and friends with Lucy and Kendra. Cassie is all about being the best she can be, loving her friends, and keeping up on trends. Cassie is a very fashion forward girl, a diva, and loves to gossip.
Charlotte
A cheerleader and friends with Lucy and Kendra. She likes to text and hang out with friends. She is very gullible.
Molly
A cheerleader and friends with Lucy and Kendra. Molly is cool, hip, and confident, She's the girl that loves gossip, loves to start a rumor, gets into everyone's business, then steps back to watch as all hell breaks loose.
Richie
Friends with Brett, Malcolm and Eddie. Richie is explosive, the class clown, the goofball. He is very likable and is a big social kind of guy.
Simon
Friends with Brett, Malcolm and Eddie. Simon is the quiet, unassuming kid that just wants to get by, yet finds himself in the middle of everything. He's in Brett's shadow on the team, but always there as back-up.
Ensemble
Rabbis; Kids